INTRODUCTION
IVF Treatment is a blessing for those who wanted to enjoy parenthood. But this treatment does not give the full guarantee to every couple because each couple considers its different problems.
choosing any IVF centre just suggested by any of your friends, relatives or some other person will not be a great idea.
The selection of the Best IVF Centers in Kenya should consider some points such as, first you need to make yourself aware of your problem.
Get to know who is facing an infertility problem whether you or your partner, in some cases both partners face it. Also, there are some more cases including genetic, cancer, unexplained infertility etc.
THE PROCESS OF IVF
The basic process of IVF treatment includes the steps from stimulation of the ovaries, egg retrieval from the ovaries, fertilization of eggs, Embryo culture, Embryo transfer and the last pregnancy test.
These are the normal steps followed by all IVF centre in Kenya but you can get a free-of-cost consultant from any centre that will help you to increase your knowledge.
Every step includes its own procedure. In the first step, the doctor will take a blood test and ultrasound of the female. It will give an idea of what the problem is. In this step, the doctor will understand the problem and discuss it with their team.
Understanding the problem is an important factor because the diagnosis will be done according to the problem.
As everyone has a different body so their problems are different too. The problem they are facing might be low-quality eggs, low sperm quality, infertility, genetic infertility etc.
The couple could be suggested any treatment such as IVF, ICSI, IUI etc according to their problems.
Then the doctor will start the procedure. Every treatment has its process here we are going to talk about a very common treatment IVF.
Firstly, they will give some injections to females. The injection will be given to develop a more mature and strong egg. This process will take 10-20 days of the time period.
Meanwhile, doctors will add one more injection which will protect the egg from destruction.
Further, on the last day of injection, the female patients will be injected by trigger injection. After this injection, doctors will take eggs out from the ovary and keep them in the dish.
At this point, they would have around 34 to 36 hours to fertilize the eggs. So they will take semen from male patients. Meanwhile, they will check the quality of sperm. Then they will separate the good quality of perm from the bad quality of sperm.
After that, they will leave it in the same dish where they have kept the eggs. Then the sperm naturally go inside the eggs and transfer itself by Embryo.
Next the last stage is the doctor will take the embryo and leave it inside the female uterus. Then after passing 2 weeks from this stage. The couple will have to take a pregnancy test.
And incase the test gets negative then the embryo transfer step will be done again.
It is possible to do this step again because there are many embryos generated in the laboratory. There is the possibility of having twins in case of IVF.
POINTS NEED TO BE REMEMBER
There are some points which you need to keep in your mind while searching for the Best IVF Centers in Kenya.
In your research list, the most important point should be the location so that you can do your check on time whenever you need it.
The second most important point is the price. Search for the top best clinics with cheap rates. Who provides good faculty towards their patients.
Furthermore, while contracting with the centre, be aware of a few things about how they treat their patients and their success rate and check their correct certification, and work experience. after all, you are paying them. So be aware of such things.
Additionally while taking their services you can ask for a consultant. so never hesitate to ask such questions.
In this article, you will get to know the top best IVF clinics in Kenya. So that you can choose the best centre which will suit your complication.
TOP 10 IVF CENTRE IN KENYA 2023 With High Success Rate
1. Fertility centre Kenya (Best IVF Centre in Kenya)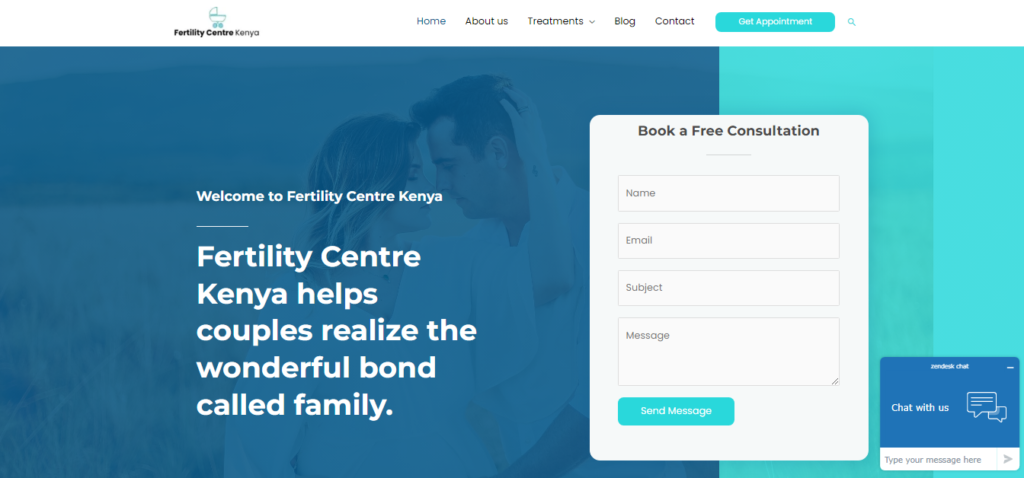 The first best fertility clinic in Kenya is FERTILITY CENTRE KENYA. The centre is located near Nairobi. The centre supplies infertility services including IVF, surrogacy, ICSI, PGD, IMSI, and IUI Treatment, as well as Test tube baby.
The success rate of fertility centre in Kenya is 95% including more than 3000 surrogacy. The specialist has more than 25 years of experience in reproductive health.
The centre provides a service by using advanced technology in this modern time to achieve the desire for pregnancy.
Here, you will meet with a highly qualified and professional specialist. Who has done many successful treatments, the team is very polite and caring which resolves any query. You can ask whatever you to ask without any hesitation.
2. Med Fertility Kenya (Affordable IVF Centre in Kenya)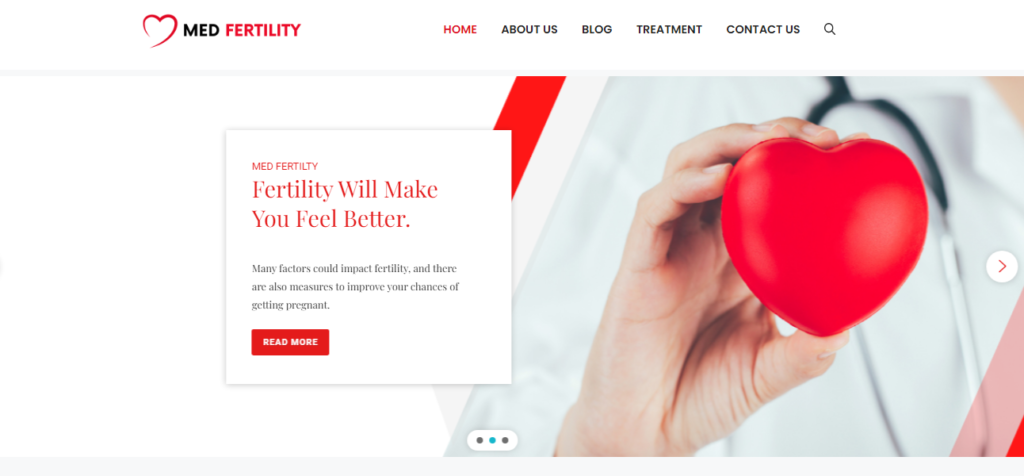 The second most famous IVF centre in Kenya is med fertility Kenya centre. Which gives you happiness on your face by providing infertility services.
The centric point of the centre is towards surrogacy and infertility. The doctors support the patient until they get the result. They give their services 24*7.
The services they provide are IVF Treatment, surrogacy, baby delivery etc. they have experienced doctors qualified by known institutes.
3. Select IVF Kenya ( Best IVF Centers in Kenya)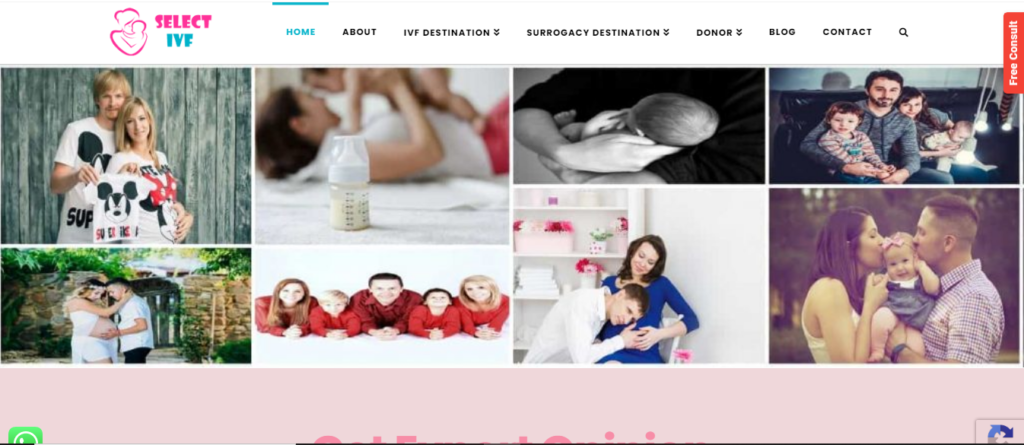 Select IVF in Kenya is the branch of Select IVF, select IVF is a very know centre for IVF Treatment where individuals get the best result.
The centre provides the service of IVF/ ICSI, surrogacy, egg freezing, IUI, fibroid surgery, and male infertility.
The centre is running for 10 years with 800 surrogacy and 1500 couples who got their desirable goals( they became parents and now they are enjoying their life.). Also, they have done more than 750 treatments of IVF.
They have highly experienced doctors such as Dr Nalini Gupta and Neelam bhise. Who has done many successful IVF treatments and surrogacies?
4. World fertility services ( Best IVF Centers in Kenya)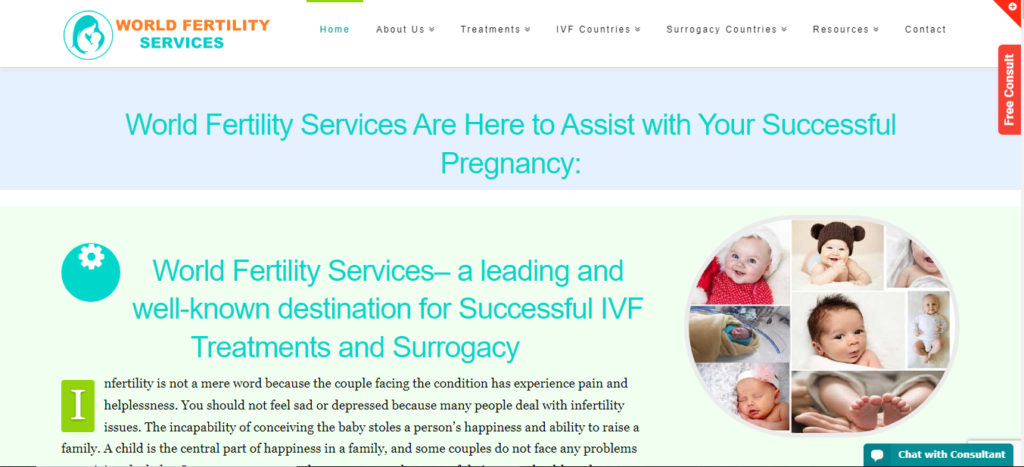 Here you can get all the services related to infertility at an affordable rate. And there will be no compromise in faculty.
The success rate of the centre is a self egg is 53%. Donor's egg is 65%, In terms of surrogacy 65% from self egg and 75% from donor's egg.
They treat their patient by using modern technical equipment following classical techniques.
Individuals get treated by a team of specialists who diagnose.
EMAIL Id – [email protected]
Website – https://worldfertilityservices.com
5. Kenya IVF (Best IVF Centers in Kenya)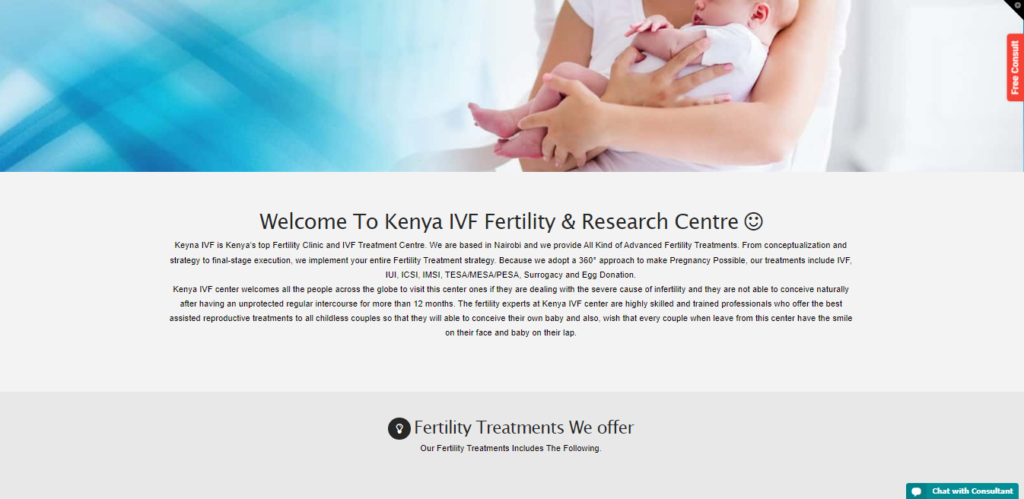 Kenya IVF centre is a well-known IVF centre in Kenya. This IVF centre is different from other IVF centres in Kenya by a few things. First, it gives 70% to 80% results to ones by using their own eggs and sperm. And in the case of the donor's egg, they get more than 75% to 80% results.
Second, females use their own frozen eggs after some time when they get 60% to 70% results. And in the last case, donor-frozen embryos give more than 65 to 75% results.
The centre provides all infertility treatments including IVF, Surrogacy, Egg donation, ICSI, IMSI, Egg freezing etc.
The centric point is focused on each patient by providing 24*7 medical services. Here, you will meet with experts who have more than 25 years of experience. They use advanced medical equipment and strategies to achieve the goal of pregnancy.
Address – Nairobi & Mombasa – 80100 (Kenya).
Email: [email protected]
6. Mediheal Diagnostic & fertility centre Kenya ( Best IVF Centers in Kenya)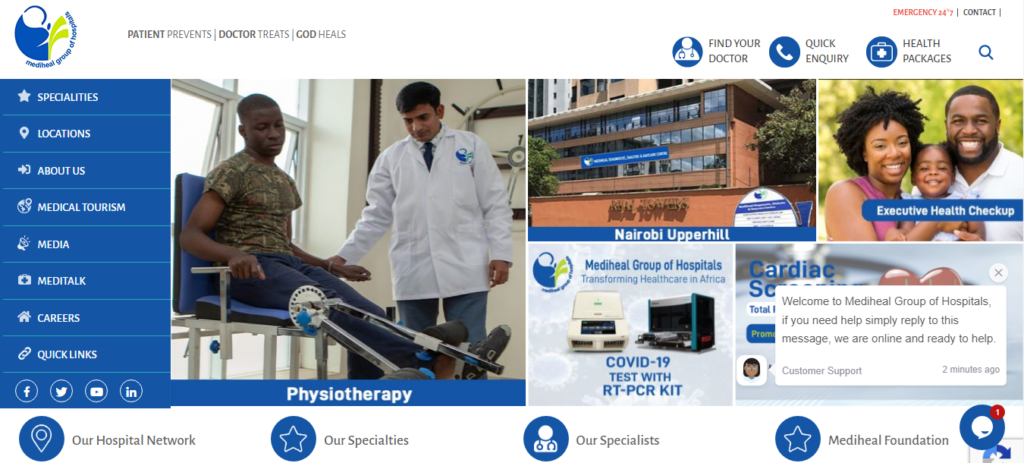 The Mediaeval Diagnostic & fertility centre in Kenya provides all different services for infertility. It was established in 2006 with the aim of focusing on quality treatment to patients.
As they take care of their money, time, and emotion. The centre is known for its cost-effective healthy care medical service with advanced technologies.
The environment of the centre is very friendly and caring and each patient can also answer their query without hesitation.
Additionally the centre has more than 10 branches in other locations. Also, they have treated more than 1.5 million patients. And the success rate is more than 70%.
Address – Third parklands Ave, Nairobi City, Kenya.
7. Lifebridge Fertility Clinic (Best IVF Centers in Kenya)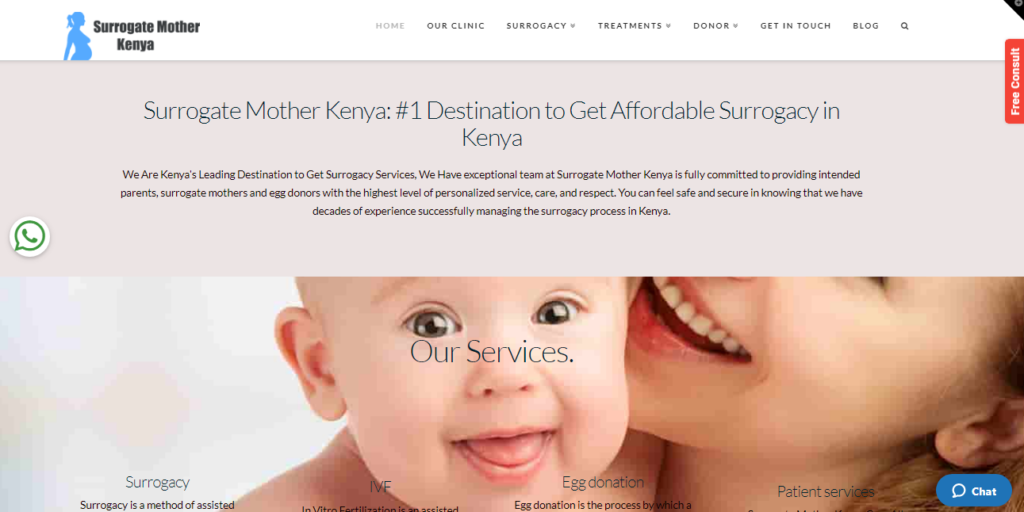 The Lifebridge fertility clinic is known clinic for its surrogacy treatment.
They have more than 10 years of experience in it. And the success rate of the clinic is 70% to 80%.
They provide all services related to infertility but their centric treatment is surrogacy. In which they provide healthy surrogate mothers with security.
This centre is good for ones who have tried many other centres for the treatment but got no results. This centre has solved many of their problems.
They provide healthy, young surrogate mothers and egg donors, advanced technology treatment at affordable cost, and highly qualified experts who have done many successful treatments.
Address – Mwai drive, Lower Kabete, Kenya.
8. WINGS IVF Centre ( Best IVF Centers in Kenya )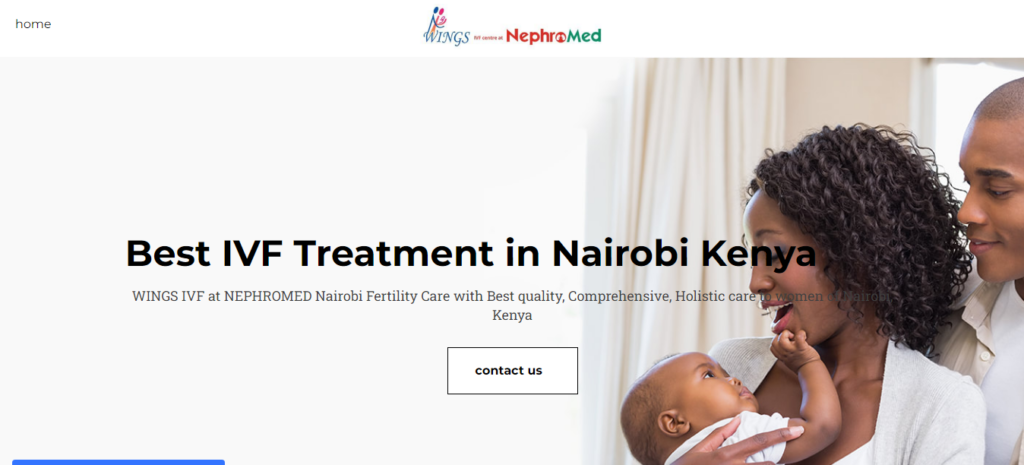 The WINGS IVF Centre gives the service to those who are facing the problem of infertility. They have tried in many centre but didn't get satisfied with the results.
The centre provides high-quality of service of IVF and Surrogacy treatment. Here you'll meet with a healthy egg donor and surrogate.
The staff is very caring with support physically and emotionally. The success rate is more than 70%.
Address – 2nd Floor, Williamson House, 4th Ngong Avenue, Nairobi, Kenya.
9. Nairobi IVF Centre (Best IVF Centers in Kenya)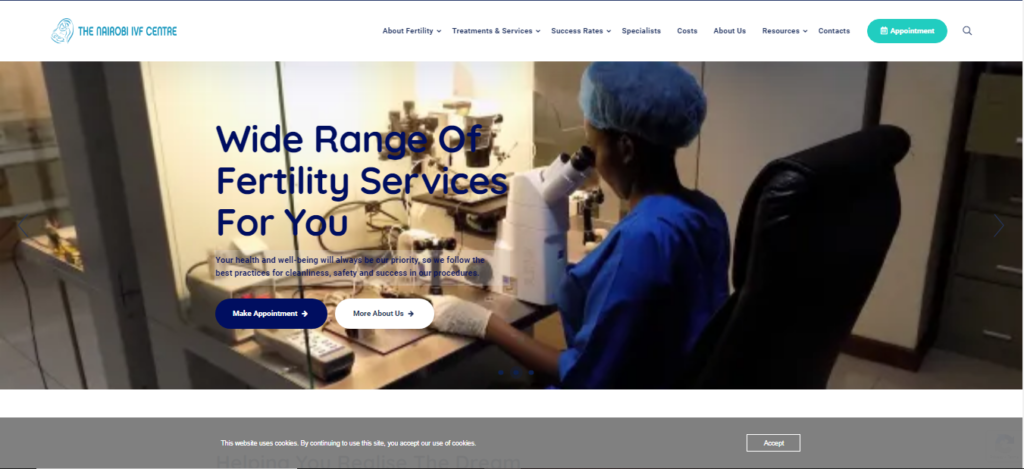 Nairobi IVF Kenya is known for its best IVF. Faculty in Kenya. It gives services of IVF, IUI, ICSI etc.
The cost of this centre for IVF treatment is KES 380,000 to KES 330,000 and KES 30,000 – KES 50,000 for IUI ( Intrauterine Insemination).
The doctors are well experienced, they have done many successful treatments of IVF, IUI and ICSI.
The past success rate of the centre is more than 80%. They have born more than 7000 children in the past 15 years.
Address – Landmark Plaza, Argwings Kodhek Rd, Nairobi, Kenya.
10. Fertility point Kenya (Best IVF Centers in Kenya)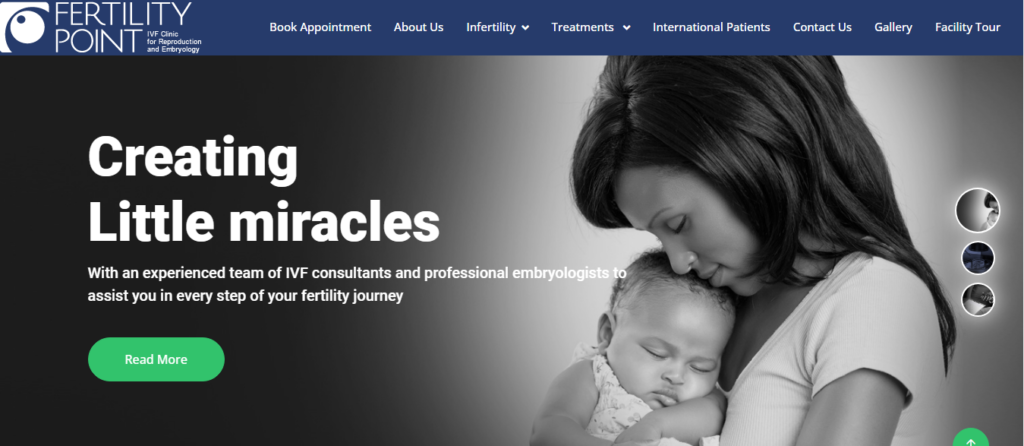 The fertility point is the newly opened infertility centre in Nairobi. Which provides an infertility service using new and highly recommend equipment.
The centre has many experiences and we'll train specialists in the field of reproduction. It is part of NMC.
NMC is a world-known fertility centre which provides infertility services. And give happiness to Kenya's citizens through their treatments.
The successful treatments done by the centre is more than 60%.
Address – 2nd Floor, Williamson House 4th Ngong Avenue Upperhill, Kenya.
WHY SHOULD YOU CHOOSE A FERTILITY CENTRE KENYA
There are many reasons why you should choose fertility centre Kenya. The first reason is, it is located in Nairobi which is the capital of Kenya. Where most people can reach and they can contact easily.
Here you will be treated with all modern equipment. This procedure will be done without any inconvenience.
The laboratory equipment is new with lots of new features. It helps to finish the work as fast as we want.
The hospital environment is calm and caring. You can ask whatever you want to ask about your process or during the procedure. They will help you to make your mind clear about the treatment.
The successful treatment rate is more than 95%. Also All the procedures before doing the treatment.
They provide a team of doctors to individual couples.
The specialist examines the couple before suggesting any ART Treatment ( Assisted Reproductive Techniques).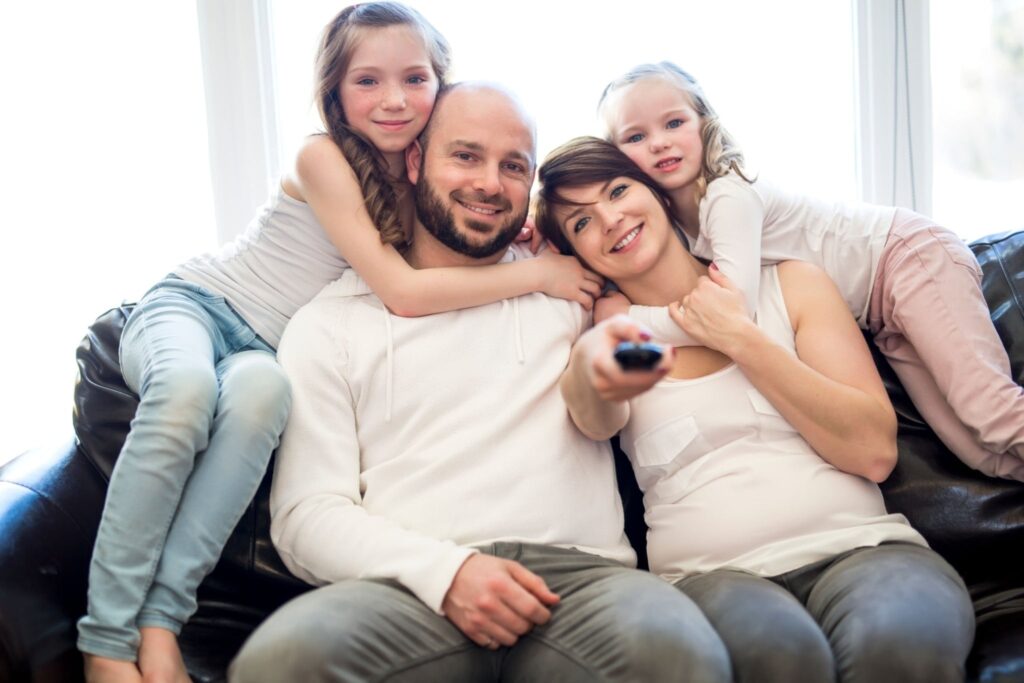 Now let's know the IVF cost in Fertility Centre Kenya.
| | | | |
| --- | --- | --- | --- |
| S.No. | Pre-treatment | Cost in KES | Cost in USD |
| 1 | First Consultation | 0 | 0 |
| 2 | Return Consultation | 1,500 | 13 |
| 3 | Screen test for both | 11,000 | 97 |
| 4 | Female Hormonal test | 10,000 | 88 |
| 5 | Male Hormone test (if needed) | 5,000 | 44 |
| 6 | Pelvic Ultrasound scan | 1,500 | 13 |
| 7 | Semen Analysis | 3,500 | 30 |
| 8 | AMH level in female | 9,000 | 80 |
Cost of Ivf Treatment, Including From before the:
| | | | |
| --- | --- | --- | --- |
| 1 | Self-Cycle IVF | 430,000 | 3,775 |
| 2 | Donor IVF Cycle | 480,000 | 4,215 |
| 3 | Own Donor IVF cycle | 450,000 | 3,950 |
CONCLUSION
On a final note, I would say that each centre and clinic are best in their services. So before choosing Best IVF centre in Kenya or IVF Clinic in Kenya, first one needs to understand their problems. What is the root of infertility?
Then your next step should be to pick the best centre for your problem. Always remember points before picking the centre need to be location, behaviour, certificate, the experience of specialist etc. Gather as much information as you can, and ask any questions and queries regarding your process or problem. Wish you the very best in your IVF journey.
FAQ
At what age, do I need to move for IVF?
There is no particular age to move towards IVF. But there are ages between 20 s to 30s when one can get good results. At this age, chances of getting pregnant increase more than moving into your 40s.
How much time will it take?
on average, it takes around a month but it also depends from couple to couple.
How much money do we need for this treatment?
Each company considers its own price. In Kenya, i would be around
KES 300000 to KES 400000. Depends upon the hospital and its faculty too.
Is it painful and risky?
There is no risk in the treatment. Millions of children have been born till now and that is living there as normal kids. There is no pain in the treatment.
Can we get 100% results to guarantee?
yes, there are millions of cases where a couple has got 100% results.  But also it's up to the situation and problem.
Read Also: